Welcome to Mid Devon Dog Training
Does your dog pull on the lead? Not always come when you call? Jump up at people? Run off with toys/items and not want to let them go? Get over excited when meeting other dogs? Appear 'deaf' at times?
Would you like help/ideas on how to successfully communicate and interact with your dog to build a stronger bond with your canine companion?
Have you trained your dog the basics but would like to learn extra tricks and enrichment games to play to keep them stimulated?
Are you getting a new puppy or rescue and need advice and help with training to make sure you get it right from day one, so that you can build a special bond that will last for the rest of your dog's life?
If you have answered 'yes' to any of these questions, or have more of your own, do not worry, help is at hand.
Mid Devon Dog Training provides 1:1 dog training advice and programmes with continued online or telephone support.
 All training techniques are science-based and force free only. Positive reward-based training and knowledge of how dogs communicate, makes learning easier for the dog and training fun for everyone involved. Resulting in a relaxed, fear-free dog and a closer bond between dog and guardian.
If you would like to discuss options, a free 15 minute phone call is available, please complete the contact form so that a suitable time can be arranged to talk further. You can also click here to visit our Facebook page for client progress stories and handy tips
Contact Us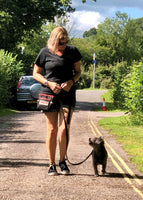 Meet the Team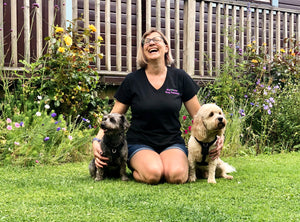 SARA SEARLE
My name is Sara and it goes without saying that I am a lifelong dog lover and owner. I have worked, and continue to work, as a dog walker since 2014 and started my dog training education in 2017. I have studied with The Institute of Modern Dog Trainers, Canine Principles, Dog Training College and The School of Canine Science, where I continue to take courses to further my knowledge and professional development.  I have achieved a Canine Coaching Accredited Diploma with Canine Principles and I am a full professional member of the IMDT.
I know that being a dog owner is not always easy and can be challenging, and I promise not to judge. I will ensure that I give the best ongoing support and am here to understand and work through your struggles.  In addition, as a force free trainer, I do not use or support any aversive methods. I am committed to helping human and canine build a strong relationship using a holistic approach to canine coaching.
I am fully insured, DBS checked and trained in canine first aid.
MABEL
My name is Mabel and I am a Jack Russell Terrier x Poodle. I joined Sara's family when I was 11 month's old in 2014 and I had never lived in a house before as my last home was a barn on a farm.  I can appear overconfident, but it turns out that I am quite scared of some humans and I use my boldness to try and mask my fear. I have taught Sara lots about canine emotions and how important they are to consider when helping me to become part of a loving family. I have been incredibly happy to let Sara teach me new things, as long as I know I am safe.  I still have lots more to learn, but I am a willing student. I am also really good at teaching other dogs how to recall to the whistle when out at work dog walking, because I race back immediately and the others soon learn that it is a good idea and yummy treats will be waiting!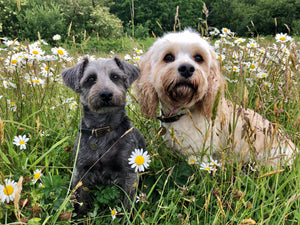 TEDDY
My name is Teddy and I am a Cavalier King Charles Spaniel x Bichon Frise. I joined Sara's family when I was 11 month's old in 2017.  Even though I was young, it was my third home because I was being a bit destructive chewing lots of things and digging holes in the garden. Turns out the spaniel side of me is quite strong and I need lots of exercise and opportunities to use my sniffer and hunt. So, my new home and dog walking job is perfect for me and I have not ever chewed or dug up the garden (except helping to dig out rodents in the chicken run).  I was a challenge for Sara when it came to training as I lacked confidence in my abilities, so Sara had to learn to adapt her skills to support me. Now I am a whizz and love it when we get to try new things. As I said, the working dog side of me is strong, which made recall more of a challenge for Sara and, although not always perfect, I am pretty good, even when I have found a pheasant to flush!
Travel Expenses
I am based in Sampford Peverell, which is near junction 27 of the M5, in between Tiverton, Cullompton and Wellington.  
Travel is free for the first 8 miles from and to EX16 7BJ, after this there is a charge of 50p per mile
Testimonials
Sara was recommended to me by our neighbour and I would thoroughly recommend her to others looking for some 1-2-1 training sessions. The first thing I appreciated was Sara's quick response to my enquiry as I was at a bit of a low point when I reached out to her. Within the space of a week I've had two sessions, the initial consultation and the first training session, each of which were followed-up with detailed notes of the exercises discussed. She has been able to help me apply what I have learned elsewhere (from group training classes and online learning) to my dog and our particular needs. For example, in coming on a walk with us she was able to witness some of his behaviours that I'm finding difficult and give on-the-spot suggestions about what to do and when to do it. Never judgemental, always positive, she supports her suggestions with her theoretical knowledge such that I know why I'm doing a particular exercise. She tops it off with all important reassurance that I'm not letting my dog down and the right amount of enthusiasm to help me believe that we will reach our goals. I'm really looking forward to working with Sara over the next few months.

Deborah
Sara is makes you feel extremely comfortable in her presence. This makes it easy to take on board her knowledge and training advice. Alfie loves her and enjoys the games and attention she gives him and therefore learns a lot. She supports the training with practice sheets and steps to move the basics forward. And is available to ask questions between sessions. Would definitely recommend her, if only for her encouragement and enthusiasm, and support, every thing else is a bonus.

Jacqui
Sara really knows her stuff. Never judgmental of you or your dog and has handy tips for every circumstance. I knew from the first time we met that I and my canine pals were in great hands. Have been working for just a few days on a plan Sara worked up for me and we are seeing benefits already.

Tsara
When we got our puppy, Sara came and gave us great advice and training plans which helped with so many things, especially getting her to focus on us.  It was great being able to contact Sara when we encountered difficulties and working through them together to solve any issues.  We also worked really hard on her recall, which means that now she is old enough, she can safely join the Mabel's Mates group walks, which she absolutely loves.

Rachel March
I have been amazed at the change in my dogs behaviour after only two visits from Sara. The exercises she gave us are simple to follow, but very effective. I have had many dogs and trained them successfully, but I was out of my depth with the one I have now. I have been to other dog  trainers before for problems we have had with my Labrador cross who had problems from before we had her, but their input was minimal and did not fix the problems. I have found that many things have improved as well as the behaviours we were working on. She is a much nicer dog now and I am no longer ashamed of her. Thank you so much Sara for changing our lives.

Hazel Newman
During lockdown I followed some of Sara's videos and training tips to work with my two unruly Shelties, Sid and Poppy. I really thought that, aged 9, they might be too old to learn much, but Sara's simple approach was very effective. Recall is much improved as is persistent barking at any movement detected outside the house. The suggestions for games are excellent and have livened up some long days when rain has made it difficult to go out. I only wish I lived closer so I could also get the benefit of Sara's training techniques and her wealth of experience in person.

Lesley Higgs
I have entrusted the training of my dog to Sara who I can highly recommend both for dog training and exercising. My dog is a cross breed and suffers from an 'overactive nose', she loves to sniff everything and due to this is very easily distracted and her recall was almost non-existent. Consequently, during her early days of being a puppy I spent 3 hours at a local National Trust Park trying to persuade her to come back to me. Sara offered to help out with recall. She was already taking my dog out through her dog walking service, so this was going to work well. Sara, myself, and my dog spent several sessions in a large enclosed outdoor area to initiate training, she always ended each session with handouts to back up that training and doggy homework. Also exercises that could be done both indoors and outdoors. Our dogs are part of our family and mean the world, so it is important to trust and be happy with your dog trainer. I would recommend Sara at Mid Devon Dog Training.

Sarah Grey
Otis was attacked when he was a puppy and in turn has always been wary of other dogs he doesn't know. Working with Sara has provided us with training techniques to support Otis when meeting new dogs, as well as helping to build his confidence….and ours!

Emma Skinner
Sara was great with Hendrix. She got to know him and us to come up with a bespoke training plan. She explained everything really well, gave us notes to follow at home and was available to give us support between sessions. Not only did Hendrix enjoy them, and all the extra sausages he got as part of the process, they've really helped and given us all new skills to use. Thank you!

Katherine Lamb
QUALIFICATIONS AND PROFESSIONAL AFFLIATIONS

I am a practically assessed and qualified member of The IMDT. Members of the The IMDT must be able to demonstrate a sound theoretical and practical knowledge of proven, ethical and science based dog training and behaviour and abide by The IMDT Code of Ethics.
In order to retain membership each year, members must give proof of Continued Professional Development so that we are always learning and keeping up to date with new studies.
Following several years of study, I have achieved my Accredited Canine Coaching Diploma through Canine Principles.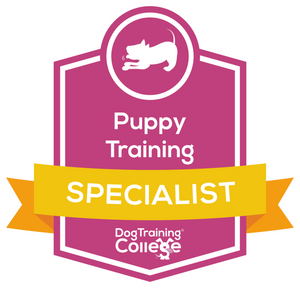 A CPD Certified and TQUK Endorsed Puppy Specialist Program. On passing the final assessment, I have achieved a Level 3 'Award in Puppy Training'.
Having undergone a personal assessment process, ensuring I met the high standards, ethics, and force and fear free philosophy, I was invited to become a Professional Member of the Pet Professional Network.
As an Assessed and Qualified Member of The Institute of Modern Dog Trainers (www.imdt.uk.com) I am proud to display the UK Dog Behaviour & Training Charter symbol.
I have taken the Canine Principles Pledge of Kindness. I have committee to continue to learn through as many reputable and ethical channels as possible about how to help and care for dogs. I have committed to science-based learning and empathy with all of the dogs and people that I work with.